TRS recently connected with Steve Pistoll during one of his short stints off the road from performing AFFF cleanouts. Steve talked about the company's first-ever field cleanouts of fire trucks and trailers impacted by per- and polyfluoroalkyl substances (PFAS) found in aqueous film forming foams (AFFF) using the PerfluorAd® system, and how he got involved with implementing the new technology.
Position: Field Services Manager I
Location: Covington, Washington
TRS Employee-Owner Year Started: 2013
Specialties: Mechanics, AFFF cleanup
Education and Training: Wastewater and public utility certifications
TRS Group: What has been your involvement with the PerfluorAd® technology and AFFF cleanouts?
Steve Pistoll: Prior to getting the PerfluorAd® plants here to the U.S., I was working with Cornelsen for a couple of years on the one plant they built in Germany. I went out on a couple trips to Germany and saw their sites and operations and how that process worked. I helped them quite a bit in the engineering and development of the plant. I sent them UL parts and tried to get everything up to code. I put a lot into the technology before it even got over to us.
TRS Group: So, you were in Germany for a while then?
Steve: Yeah I took two separate trips there. They were about a year apart. One was before a plant got made. We were just talking over the process of how it worked. We were going to do some field trips where we reviewed how their systems in the field got up and running. Then the second trip was going back and the plant was 99 percent completed at that point. We did some startup checklist stuff and some dry runs, working some bugs out of the equipment before it shipped over.
TRS Group: How did you get chosen for this role?
Steve: I was a good fit for this because I have a water background. I spent 14 years or so working for public water and with wastewater and testing water quality and all that stuff. I felt it was a good fit for me because PerfluorAd is more of a water technology.
I also enjoy doing the ERH and TCH stuff. The PerfluorAd® technology is definitely a change. It's a different clientele and different locations. I'm now working around fire stations and fire trucks instead of our core business where we're working a chemical plants and things like that. 
It's very fun. It's a unique situation to get thrown into a new technology. We're bringing something to the U.S. that no one has really seen yet. It's fun, but it's challenging at the same time.
Steve Pistoll (lower right) and Greg Knight, PerfluorAd Project Manager, configure a PerfluorAd® plant at a fire station in New England. 
TRS Group: What single thing have you been most proud of during your time at TRS?
Steve: At this company, we continually meet the goals of our customers. We've shown that we don't oversell our technology. Our technology actually does what we say it does and it works really well. That's a really cool thing to be a part of. There are so many technologies out there that promise something but can never hit their goals or it's always a disappointing outcome. You just really don't see that at this company. We meet our goals on every single project and the sites get nice and cleaned up. That's a really proud feeling about working here.
TRS Group: What is the most satisfying aspect of your job?
Steve: Knowing the difference that I'm making, and that my work is basically preventing thousands and thousands of people from getting sick with cancer and dying prematurely. By doing this work, we're going around and pulling thousands of pounds of dangerous chemicals from drinking water and soil that are ultimately getting people sick. That's the satisfying part of the job – knowing that I'm making a big difference.
TRS Group: Are you referring specifically to your work with PerfluorAd and AFFF cleanouts or thermal remediation and what TRS does in general?
Steve: Well, it could work both ways. Generally, our core technology pulls mass out of the ground and removes it. On the AFFF and PFAS side of things, the toxicity doesn't break down in the environment. It just builds up and builds up. It's everywhere – 95% of the U.S. drinking water, Antarctic ice, food products. We basically polluted the entire planet with it in the last 60 years and they're just realizing how bad it is. These chemicals are still in pizza boxes and food wrappers. It's in our Teflon pans that we cook with. I never knew anything about it until I started doing this work. It's a real eye opener.
It's very interesting to find a technology that works so well to remove such large amounts of PFAS out of water.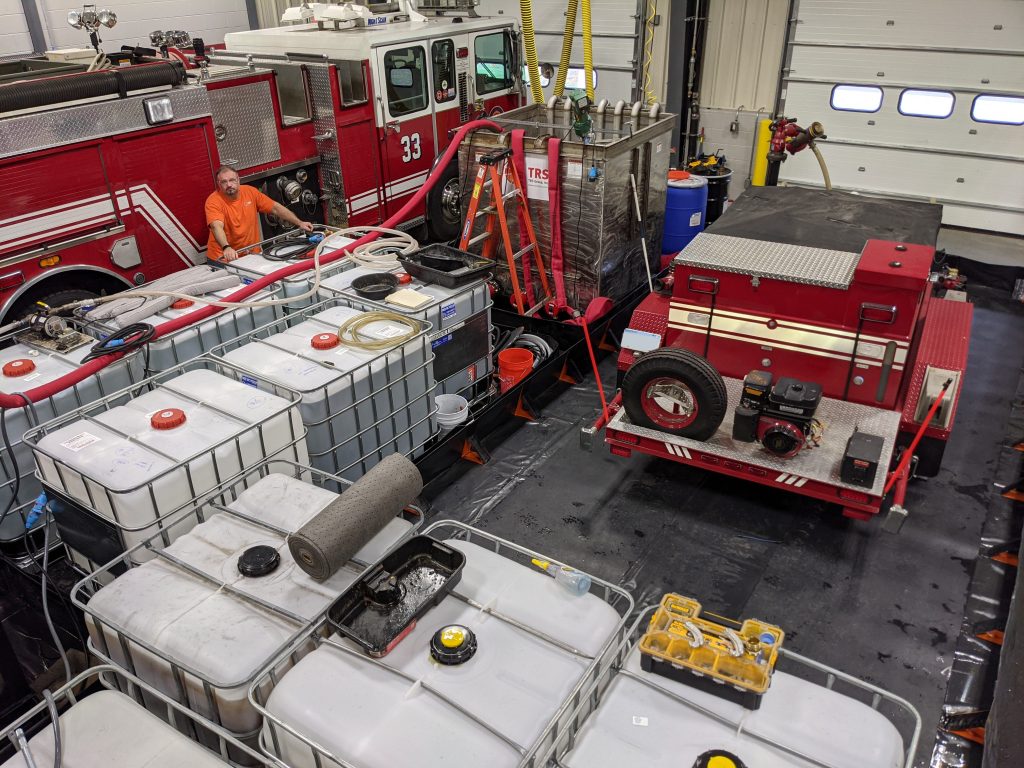 TRS Group: What attracted you to the environmental remediation field?
Steve: I just had the ability to make a difference and do my part in repairing all the damage that humans have caused. I've always liked knowing that I'm helping the community. I found that this is a really good way to do so. It makes a significant difference and it makes a big impact as far as what one person can do.
TRS Group: With you being in the Seattle area, and TRS having done quite a few thermal remediation projects in the region, have you been involved with those projects?
Steve: I think I'm on my seventh or eighth project that I've built from the start and demobbed at the end of it. Most of those have happened in the Seattle area. Just because I'm one of the only people in Washington, on the weekends I'm babysitting and going in and doing the alarms and keeping things running if the site goes down.
TRS Group: So, you had talked about helping communities. Is there even maybe a little more significance then when you get to help your local community like that?
Steve: Yes and no. It feels good to be helping your own community out, but wherever we go and wherever we travel, we're doing the same kind of thing for other communities. It's a global problem. It's everybody's problem, really.