We recently had a wide-ranging discussion with David Fleming, co-founder of TRS Group, about the history of the company, his new PFAS-related position, and what comes next for TRS.
Position: Company Founder; Director of PFAS Programs
Location: Snoqualmie, Washington
TRS Employee-Owner Year Started: 2000
Specialties: Sales and marketing, relationship building, entrepreneurship
Education and Training: Bachelor of Science in Environmental Health – Wildlife Toxicology from Western Washington University
TRS Group: What is your role in bringing the PerfluorAd® technology to market?
David Fleming: First to facilitate a relationship with Martin Cornelsen, the inventor of the technology, followed by completing a licensing agreement. While doing that, I spend considerable time building the market for cleaning out aqueous film forming foam firefighting trucks and fixed fire suppression systems.
I've also continued to help the company build our business on the thermal side for PFAS in soil.
TRS: What is your vision for the PerfluorAd® technology in North America?
David: Our strategy is like what we did with our core heating business. We focus on establishing a network of early adopters who believe in the technology and want to validate it. So far it's been the Department of Defense, state governments, municipalities, airports and consulting companies.
We try to find research and development dollars, establish a beachhead, reach out to early adopters, building relationships and ask for referrals. We find that our customers are usually happy to help us.
My vision is to get us to about $10 million in annual revenue in the next three or four years.
TRS: How does this strategy relate to projects like the recent Connecticut DEEP firetruck cleanouts performed by TRS?
David: State governments are certainly interested in helping their municipalities clean out their firetrucks. We see interest throughout the country.  
In the environmental industry, two elements must come together – a regulatory framework to encourage people to do the right thing and the money to pay for it.
Connecticut seems to be the first out of the blocks. There are many states that have laws on the books that say you can't use AFFF and other products with PFAS in them. The problem is they haven't provided a framework for people to figure out what the next step is.
You really don't know where the business is going to come from. You just have to keep turning over rocks, maintain your focus and help other people achieve their objectives. By doing that, we achieve ours.
People want to help. If you help them, they will help you. And they'll ultimately refer you to business if they're aware of any. That's what happened there.
It's like planting seeds. You never know where the fruit is going to come from. You just have to keep planting.
TRS: How has TRS changed since you helped found the company in 2000?
David: The easy answer is that it's grown from just four people to nearly 70, from providing services in the United States to providing services in Europe, China, Brazil and Canada.
We have also expanded our technology portfolio. We started with Six Phase Heating technology, now called Electrical Resistance Heating. We've added thermal conduction heating, steam enhanced extraction, heat enhanced plume attenuation and PerfluorAd.
Our engineering and operations people are top-notch. We just completed a PFAS project in Alaska in the winter where we achieved average soil temperatures of 418 degrees Celsius.
While it may sound trite, I really believe that TRS is a family. We treat each other with respect and kindness and help each other succeed. I'm really thankful that that's the case. 
About four years ago we became a 100% employee-owned company. Our people became company owners, directly impacting and benefiting from our success.
TRS: How has your role at TRS changed?
David: I have been given more freedom to focus on my greatest value to the company and my highest interest, which is building a new technology division for the company, which is PerfluorAd and PFAS treatment.
I have more freedom to do that and build relationships that lead to a growing business. And that's what I really like to do and what I'm best at. Frankly, I've been given a gift.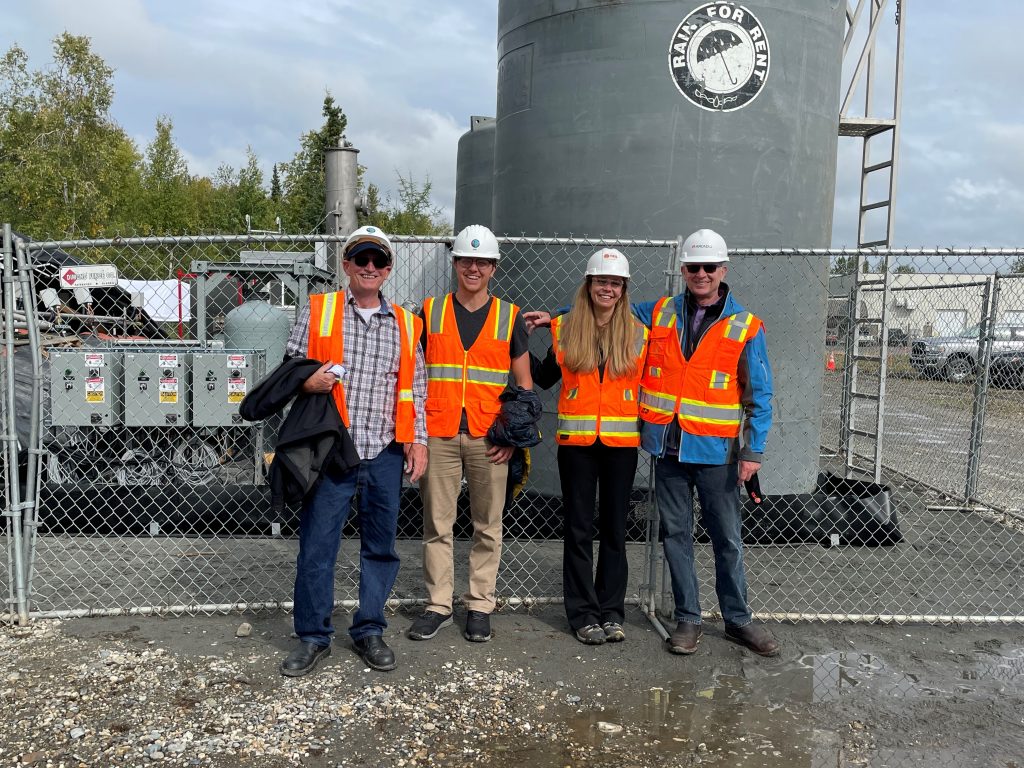 TRS: What single thing have you been most proud of during your time at TRS?
David: A few things actually.
One of the reasons I got into the environmental business was because I had a vision of being able to interact with all the disciplines that are part of the industry, from marketing and sales, engineering, operations, accounting, legal, leadership and management.
It is part of my nature to be transparent and ethical. People often think of salespeople negatively. We've all had not-so-good experiences with used car salesmen, where you are kind of forced into something you don't want to do. I knew I could do it differently. I have been fortunate to be working in a culture where we treat our clients with respect. We tell them the good news and bad. Also, we do what we say we will do. We have great customers who favor us with orders over many years. It's one of the things I'm proud of.
Another thing that's important to me is to help our staff achieve their goals, and do it in a way that improves life on our planet and the environment. That's always been a strong principal in my life. 
TRS: What is the most satisfying aspect of your job?
David: To support our staff, creating a work-life balance and focusing on their highest value to the company and helping them create success in the company. That gets me out of bed in the morning. Supporting our staff and supporting our customers to achieve what they're trying to achieve and doing it in a way that's truthful and open and transparent.
TRS: What attracted you to the environmental remediation field?
David: Growing up, I played sports with my mom and spent time in the outdoors with my dad going hunting and fishing. Somewhere along the line I got interested in the environment.
I worked in the mining industry in Colorado, which is about as far away from environmental health as you can get. We were generating all this waste and people were getting sick from working in the mines.
I did that for a short period of time, like several months, but for some reason I had to experience it. And then I realized I didn't want to do that. So, I got a job in the forest service in Colorado. I did that for a couple of years, building campsites, welding fire pits and fighting a few small fires. I loved it.
There was some construction work I did after that. And then I met a guy on a trip to Ireland with my wife and her family and he said he taught his kids to either use their brains or their brawn. I realized that was exactly what I did. I tried my brawn, and it was fun at the time, but I realized there was something more I could offer.
I went back to school and met a guy in a tech program who was going to Western Washington University. He advised me to go back to community college to get my grades up and then enroll at Western. He said I should take as many chemistry classes as I could stomach and that if I did, I was guaranteed to find work.
I ended up going into the environmental program with a focus on chemistry and wildlife toxicology. I remember people asking why I was going into environmental science as opposed to computer programming or something like that. I was just following my heart and hopefully it would come together down the road.
TRS: What attracted you to the field of PFAS programs?
David: These compounds are everywhere – in air, water, food, soil, in our blood, and in animals around the world. Remediating PFAS is difficult. I am drawn to the challenge of cleaning up a new class of contaminants. I want to make a positive impact on the environment and in people's lives while I still can.