Katie Cram, Financial Accountant, talks about her key role on TRS's international projects, and her volunteer work with the United States Naval Sea Cadet Corps (Sea Cadets). 
Position: Financial Accountant
Location: Raymond, Washington
TRS Employee-Owner Year Started: 2015
Specialties: International work (taxes, accounting, importing, exporting, licenses, registrations) 
Education: Associate's Degree in Business Management and Accounting, Independence University
TRS Group: Tell us about joining TRS.
Katie Cram: You know, this was totally a job I happened upon. And I was hired basically to be a secretary.
I was in school when I started at TRS. I took some time off from school when I had my son and didn't go back until not long before starting here. I got my degree from an online school, which allowed me to work full time while still taking care of my son. I took one or two classes at a time. They changed every six weeks. I graduated in October 2015, finishing my degree eight months early.
TRS: What do you do at TRS in terms of accounting?
Katie: I am responsible for all the international work, including international taxes and accounting, importing, and exporting. If we need licenses, I do the Department of Transportation numbers. If it has to do with any other country besides the U.S., I'm the one who usually does it.
The start-up of a project overseas is time consuming. Also, I deal with Canada, up to and running our Canada company.
TRS: What do you mean by our Canada company?
Katie: When we won a project in Quebec, we decided to form a separate company for our work in Canada, which I did a majority of the set up on. I am responsible for running all the financials for those projects.
TRS: Can you walk me through how you stumbled upon TRS?
Katie: I had just moved back to Washington from Idaho, where I lived for a little while. Looking for a job, I ran into Judy, who worked at TRS. She was looking for a secretary. I interviewed, got the job and while being trained, Dale Plampin, TRS's Controller, took me under his wing and showed me how to do the accounting. I just kind of picked it up.
I never aspired to be an accountant. I just happen to be good with numbers. Once Dale saw my potential, he showed me some things and we went from there.
TRS: It sounds like it really opened some opportunities for you.
Katie: The best decision I ever made was accepting the job here. I learned more from Dale in three months than I did in my 15 months of schooling. And I continue to learn from Wayne (Rebich, Chief Financial Officer,) and Dale and everyone else. The next step is to learn about our projects and how they run. The amount of on-the-job training I get is worlds above what I ever got by sitting at a computer reading different business scenarios.
TRS: How long were you in that secretarial role?
Katie: A couple of weeks. Dale quickly realized I could help in other areas.
For a long time, I did the data entry on top of doing other things. While I wasn't technically a secretary, I've never been in just one role. That's kind of the TRS way. I enjoy it and learn a lot. But it does make it hard to say I've been in one position for a certain amount of time.
TRS: What single thing have you been most proud of during your time at TRS?
Katie: It's probably the international work. Keeping that moving along and not stopping at just understanding what needs to be done, but also why.
TRS: How did the international accounting come to you?
Katie: Wayne asked me to look up something and I figured it out quickly. At that point, Wayne decided I would be doing all international accounting.
I'm the type of person that doesn't like to do a single thing over and over again. I like variety. When it comes to international work, nothing is ever the same. And there is always lots to learn.
TRS: What was your most challenging and rewarding international project?
Katie: Most challenging would have to be our work with the United Kingdom. I was dealing with our Hamilton project through April 2023, even though we completed the project more than 18 months earlier. Finally, after a year and a half of waiting, we got that project 100% closed.
TRS: We're kind of surprised you said the U.K., considering they speak English.
Katie: It's funny because the language barriers aren't all that big a deal. There are a lot of tools out there to help with that. I've read a lot of contracts and documents in different languages. It's easy enough to Google Translate it. While it doesn't translate it 100% correctly, you get enough of an understanding of what they're getting at.
On the other hand, the context barrier is difficult. I can be talking about a specific point and the people I am talking to think I'm talking about a very different thing. While we eventually are able to talk through it and come to an understanding, it's not easy.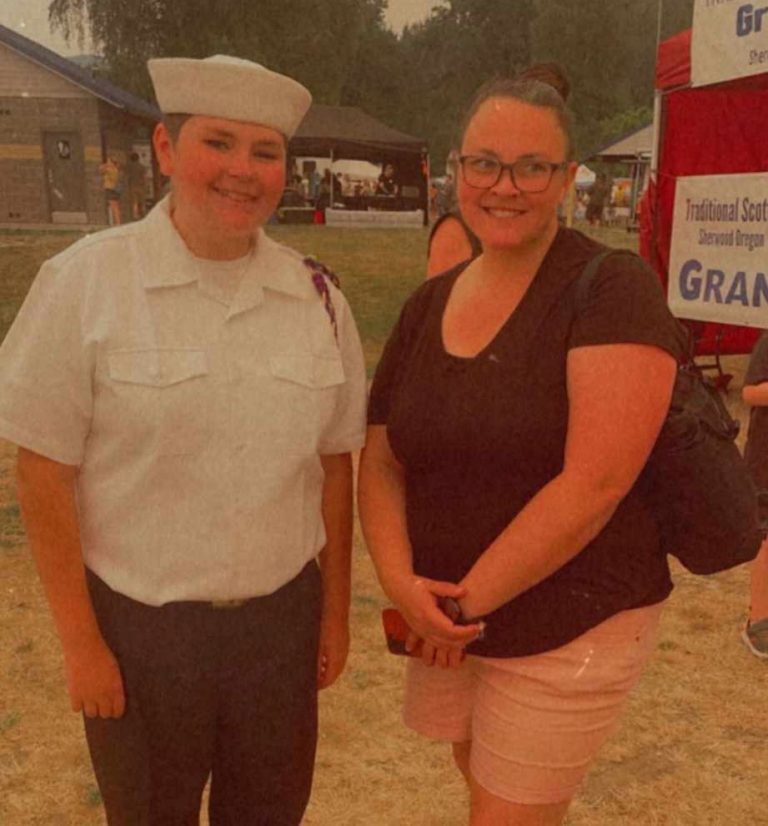 TRS: What is the most satisfying aspect of your job?
Katie: Just finding the answers to problems. A lot of what I do right now is more analytical.
TRS: What are you analyzing?
Katie: The financials. Different opportunities. The numbers that we get from Doxor (TRS's thermal partner in Brazil). I am responsible for those numbers, making sure they make sense.
TRS: What attracted you to TRS?
Katie: Honestly, it was a job in the city where I lived (Longview, Washington). Also, I wouldn't have taken the job if not for the company culture. Part of the hiring process included talking to Brett (Trowbridge, CEO of TRS). It meant a lot to me that the CEO would take time out of his day to make sure that a new employee would be a good fit.
TRS: So, was this job remote or office based?
Katie: I work remotely but used to be based in our Longview office.
The company was started in Longview out of the basement of one of our founders. Then TRS converted an apartment into an office, where two people worked. Then we moved to a real office space. When I moved to Texas, TRS shut down the Longview office, as it did not make financial sense to keep it open.
TRS: Where do you work now?
Katie: I am back in Washington, working out of my house in Raymond, a small town on the coast. There's not a lot to do in Raymond, but I like it.
My life now revolves around TRS, my son and Sea Cadets, which my 13-year-old son does. It's the Navy's youth organization. Both the Navy and Coast Guard sponsor annual summer trainings, with a lot of them on military bases. The kids wear the Navy uniform during drills and training.
We have drills every month, like the Reserves do – one weekend a month, and then two weeks out of the summer. The program includes a nine-day Recruit Training, which is where my son is now. In the summer and winter, we have advanced trainings, which are scattered throughout the country.
If you want to be a pilot, you go for four summers and learn aviation and then you possibly get your pilot's license. If you want to scuba dive, you can be certified in a summer. If you want to go into construction, they have training for that. If you want to do medical, they have training where you work up to be an EMT. All the parents pay for is the training cost, which is anywhere between $150 and $300.
TRS: How did you learn about the Sea Cadets?
Katie: I stumbled upon it. I was looking for something for my son to do during the summer months. I looked into the Young Marines, which is like the Marine version of the Sea Cadets, but my grandpas are Navy vets and I wanted to find something that the Navy sponsored. I found the Cadets by searching online, signed my son up and he's been a part of it for the last 18 months. He loves it. It's an awesome program. My son hated the thought of enlisting in the military, but now he's really thinking about it.
Because I'm the financial officer of our home unit's advanced training in Warrenton, Oregon, I'll go down there for the next two weeks and be one of the officers at the command office. The training will consist of both culinary and field operations training. It's 100% volunteer.
It's a heck of a vacation, but it's one of those things that I enjoy doing. It's for our training and field ops, and you can't go wrong with that. Our kids learn a lot.